Welcome to the Roslyn Cemetery Beneficial Association website.  Our mission is the continued care and restoration of the Roslyn Cemeteries in Roslyn, WA.
Clustered serenely on 15 acres of woods and hills are 25 separate but adjacent cemeteries form the Roslyn Historical Cemetery. Since 1887, land was donated by or was purchased from the Northern Pacific Company by fraternal ethnic and civic organization for burial of their deceased members. At least 24 nationalities are represented within the nearly 5,000 graves. The cemeteries were listed on the National Historic Register in 1978.
Burial customs from the those countries can be observed today. Many graves seem to be above the ground due to the placement of curbings. It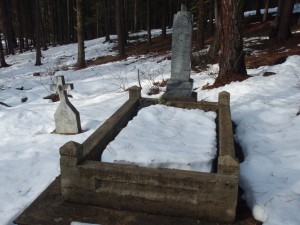 was not uncommon to have a 'footstone' placed with the hope that in more affluent times a headstone could be purchased and erected. The ornate and picturesque fences around some plots were originally erected to protect the site from foraging cattle and wildlife.
The Italians and Yugoslavians especially used elaborate markers. Icons of the departed, pictures encased in ceramic and embedded in the tombstones were used quite frequently. A newer method of adding a likeness of the deceased to the stone is photo etching. There are several fine examples of this in the Memorial Garden section of the cemeteries.
In part, the uniqueness of the Roslyn Historical Cemeteries is that for most sections, the perpetual care existed only as long as the participating organizations of families were around to provide the maintenance.
Today, the Roslyn Cemetery Beneficial Association is helping fund the continued restoration and preservation activities of this historic landmark. Please help by donating to the RCBA
Roslyn Cemetery Beneficial Association
PO Box 156
Roslyn, WA 98941
Or email the RCBA for more information at:
info@RoslynCemetery.org